Dakar 2021: Loprais heads into the final part from fourth place
Throughout both marathon stages, Aleš Loprais, Khalid Alkendi and Petr Pokora did not have a chance to follow the results. They had enough work handling difficult routes and making sure that the Praga V4S DKR keeps going. After eight challenging days at Dakar, the truck has unsurprisingly shown some signs of wear. And while they were greeted at Neom by some nice results, there are still many kilometres to go. And it should get even more difficult from now on.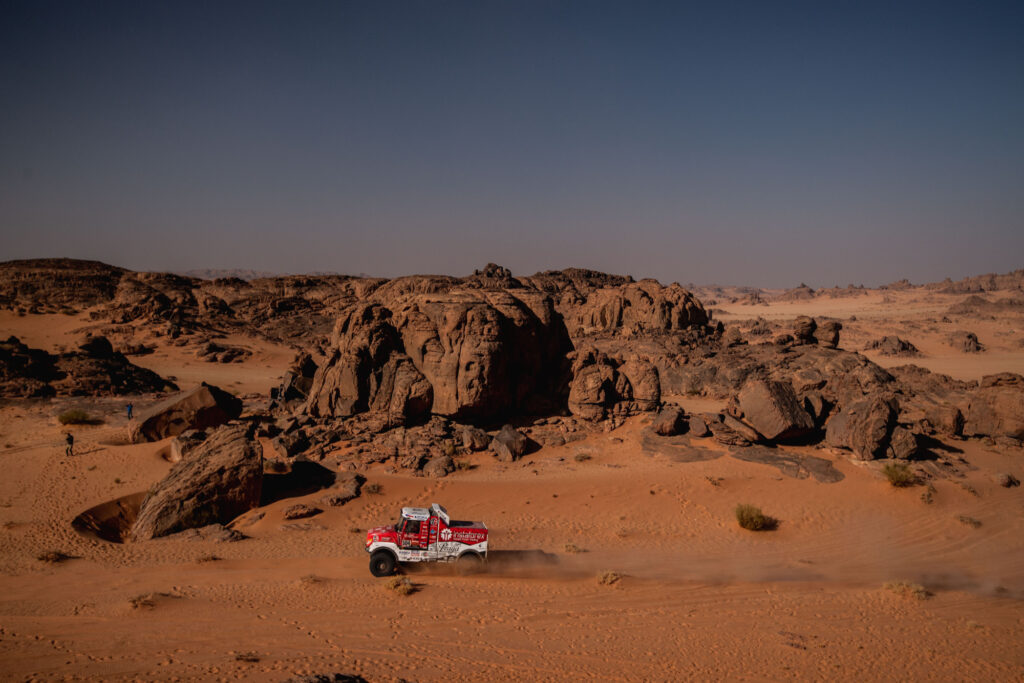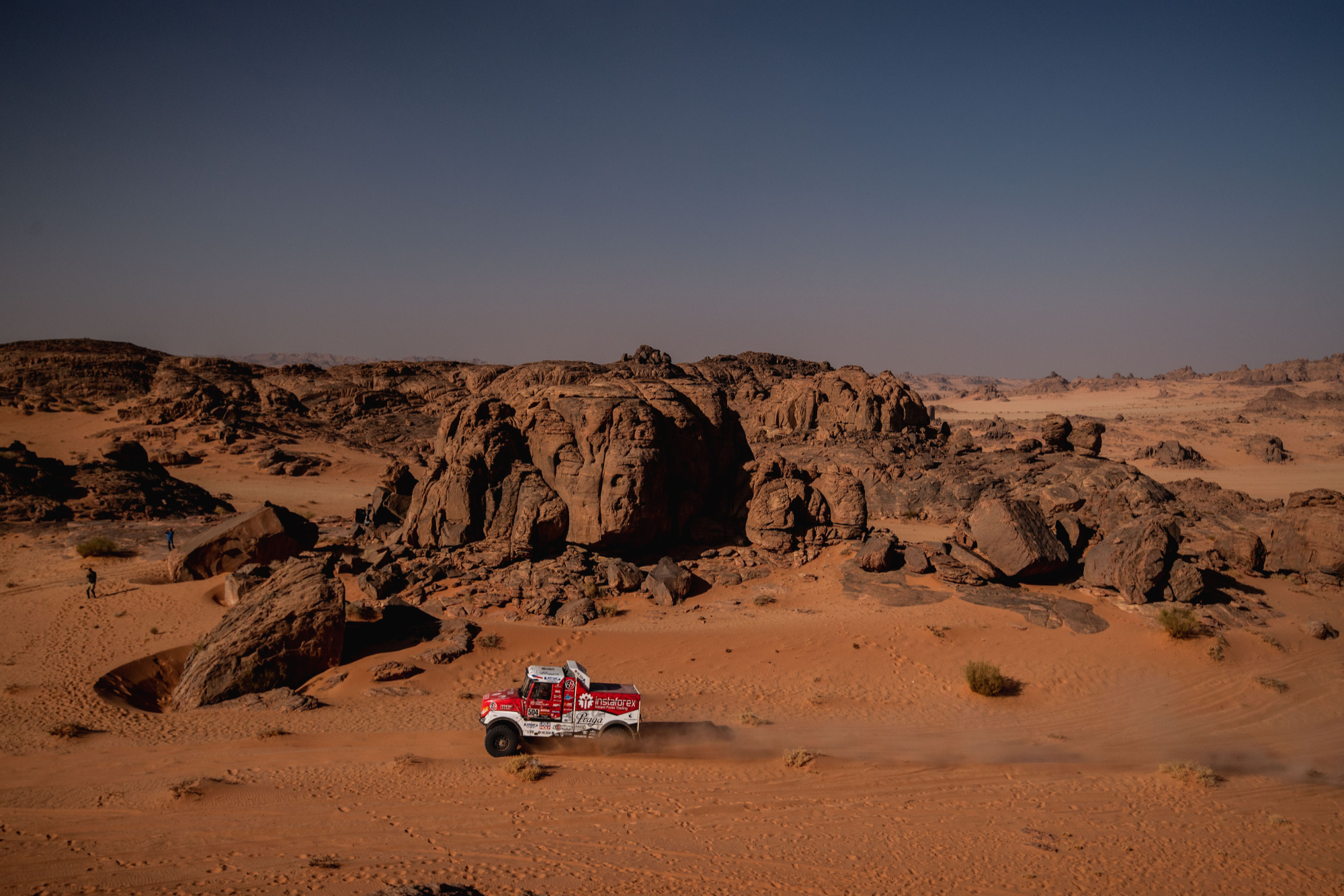 The second third of the Dakar Rally 2021 finished with two marathon stages on Sunday and Monday. And at least some members of the Instaforex Loprais Praga Team felt like it was only one day. The marathon bivouac at Sakaka was special, as it allowed only crews members to handle all the servicing. And in case of the Praga V4S DKR, it meant changing almost the whole front axle.
"It's all fixed and tyres changed. I, Jiří and Jan have slept for about an hour, but it's done! We don't enjoy this type of work even back home, where we have a crane. But we did it," says Petr Pokora in the morning.
"It's clear that the guys did their job. I'd like to thank them so much for bringing everything necessary and for their all-night work, even if it was a dirty and tough one," praises Loprais' mechanic his team-mates.
Jan Tománek, Tomáš Kašpárek and Jiří Stross went into the race in a supporting role for situations like this. And they did not enter the Monday's stage anymore.
"We started the marathon stage and finished the first day of it. Thanks to that, we spent the night in the bivouac at Sakaka, where we helped Aleš and his crew. Petr, Jiří and I worked on their truck until the early morning, that was our main objective here," says Jan Tománek.
"Unfortunately, a very similar issue also appeared on our Tatra, but we didn't have any material, time or strength to fix that as well. So, we've officially withdrawn from the race. But the most important thing is that Aleš keeps going."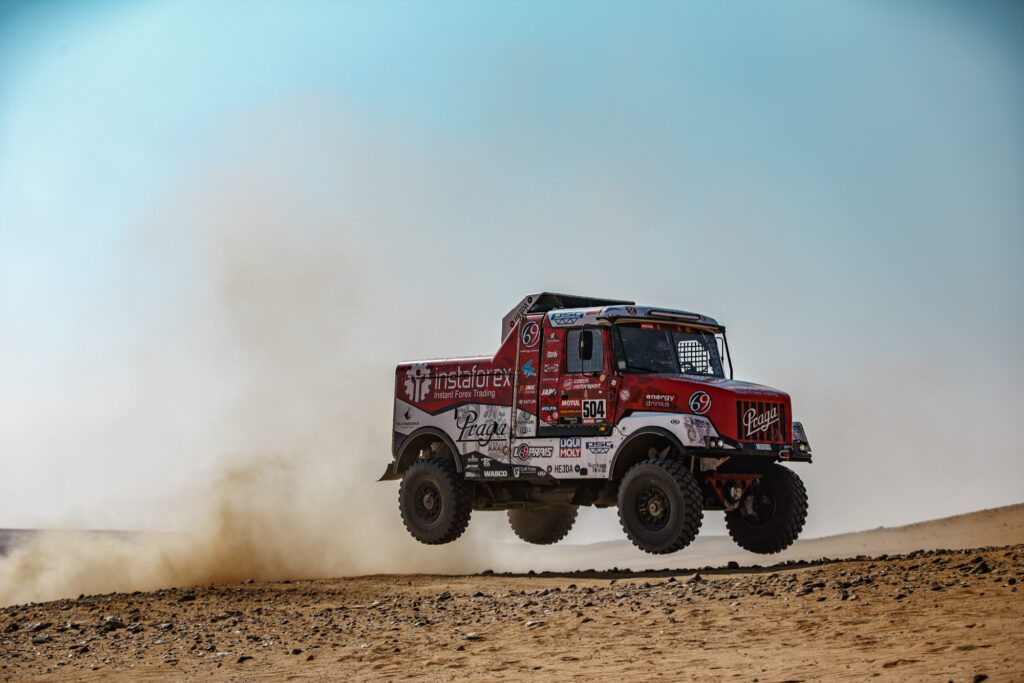 On Monday, Aleš Loprais and his crew continued with Stage 8 of the Dakar Rally event. It led to the shores of the Red Sea at Neom. The team faced another difficult stage of 375 kilometres.
"It was another stage with rough terrain. Holes, jumps, dust and rocks. Just the final 100 kilometres were nice, as the route went through a wadi with sand terrain around rocks," describes Aleš Loprais.
"We're glad to finish because we struggled with a jerking servo steering. The right-hand turns were misery and I kept hoping for more left-hand turns," said smiling Czech.
"It's nice to make it to the end without losing our position in the standings. Sometimes, it was very close. The guys will now fix The Lady again and we'll keep pushing."
Despite all the struggles, Loprais, who is currently in fourth place in the standings, fought another close battle with Airat Mardeev. He finished ahead of the Kamaz driver by just 45 seconds. In the end, he is now less than 16 minutes behind the Russian. The Instaforex Loprais Praga Team has also increased its gap to the crews behind. Martin Macík in fifth place is now more than 22 minutes behind Loprais.
Dakar 2021: The Lady – The Fighter & The Queen – The Salvation
On Tuesday, January 12, the Dakar Rally 2021 continues with the second loop stage of the event, this time around Neom. The crews will face 465 kilometres and another 115 kilometres on the liaison sections. The organisers promise it to be one of the most difficult stages of the race. It should feature light and heavy sand, a soil terrain on the mountains and challenging sections full of rocks. Several parts are going to require a maximum concentration from the navigators as well. The deciding stage of the Dakar Rally is about to begin…