Praga appoints US-based official R1 dealer
Praga Cars has further strengthened its growing dealer network with the addition of Praga Racing USA, managed by Infinity Nine International, as the newest international partner for Praga's 5th Generation, all-carbon fibre R1 race car.
The newly contracted dealership, run by Shane Anderson and the team at Infinity Nine International, is based in Atlanta, Georgia, and will supply R1 race cars and provide customer support to all of the US, including those R1s already owned across the country, from Miami to Michigan.
This month, the new dealer celebrated the recent delivery of four new R1 race cars to new US-based owners with a group shakedown at the private motorsports club of Atlanta Motorsports Park (AMP), as well as competing in AMP's Summer Championship Race Series. Demonstrating the R1's race winning performance, one of the new cars set a new class lap record of 1min 15.29 seconds, as well as achieving one of the fastest ever top speeds set at AMP of 150.1mph – more details about the famous driver who recorded the time will be announced soon.
The single seater R1 is powered by a turbocharged 2-litre R-A Praga T Engine – a proven race engine from Renault Alpine – offering drivers 365 bhp in factory spec in a car that weighs just 643kg producing lateral forces of up to 3G in corners.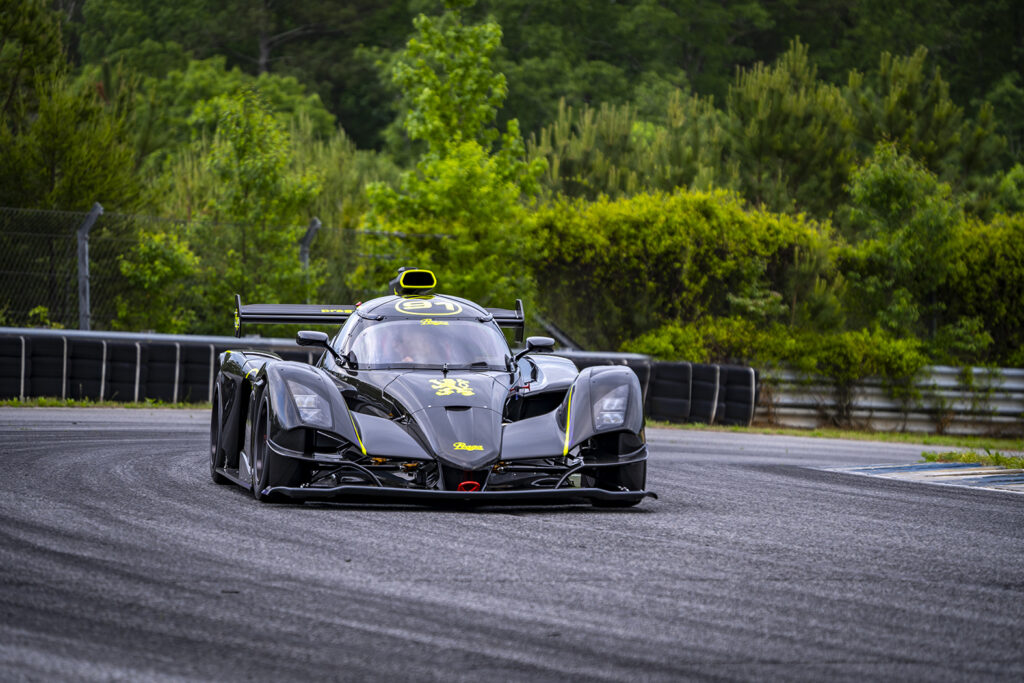 Shane Anderson, CEO of Praga Racing USA and Infinity Nine International, said; "As the ultimate purpose-built, high-downforce race car, I see enormous potential for the Praga R1 in the US.  The R1 is ridiculously fast and extraordinarily safe with a zylon reinforced carbon fibre survival cell, side pods and crash box. It is simple to service and inexpensive to maintain. Last but certainly not least, the raw carbon fibre R1 is the most aesthetically pleasing downforce race car I've ever seen. The form and function of the R1 is just phenomenal. Priced at two hundred and twenty thousand euros, the R1 is a steal compared to its higher priced GT race car counterparts, which it easily outruns on track.
Meeting the team at Praga, we immediately saw common ground. Our aim is to build on the existing professional Praga network and take care of customers whether they are looking to win races or enjoy the car at their leisure. I suspect that once people see the car in the US, demand will increase and I'll be pushing the Praga factory for more production."
Mark Harrison, Sales & Marketing Director, Praga Cars said; "The R1 has something of a cult following in the US which has maintained a healthy market for both track days and competitive motorsport. Over the years, Praga has been searching for a proactive partner to help us grow. Shane, as an R1 owner, has the necessary experience of running and working on the car, and has a strong network in the appropriate circles. Having already secured a number of sales before signing as a dealer, we're looking forward to working together."
Jan Martinek, Chief Engineer, Praga Cars said; "The appointment of our new official dealer in the US and the recent uplift in international sales of the R1, supports our investment in the R1 in recent years with the launch of the 5th generation car. Shane has great technical appreciation for the car and its maintenance, so we are confident that Praga Racing USA will form a successful partnership and provide new and future R1 owners with a great Praga approved dealer service."
To find out more about Praga Racing USA visit: https://pragaracingusa.com/
This Summer, Praga also launches the limited edition €1.36m Bohema road-legal hypercar. Approximately 25 of the 89 cars being built are allocated for the US market and US production is scheduled to begin in the first half of 2024. Sharing no common parts with the R1, the Bohema, however, does have three things in common with Praga's race car: all-carbon construction, extreme aerodynamics and GT3-matching lap times.
See ex-BBC Top Gear Stig, Ben Collins' review of the Bohema pre-production prototype here: https://youtu.be/mb1KVyJLURE
ENDS
PR contact:
Lucy Burman
Communications Manager, Praga Cars UK
lucy.burman@pragacars.com
+447801350641
R1 USA sales contact:
Shane Anderson
CEO of Praga Racing USA
sales@pragaracingusa.com
(828) 708-5583