Rally Dakar 2023: Loprais battles it out in top three at Stages 5 and 6
The sixth stage of Dakar Rally 2023 was challenging for Aleš Loprais and his crew. They lost precious minutes after getting stuck on a dune, but they managed to stay at the top end of the standings by a slim margin, as the weather continues to disrupt the rally.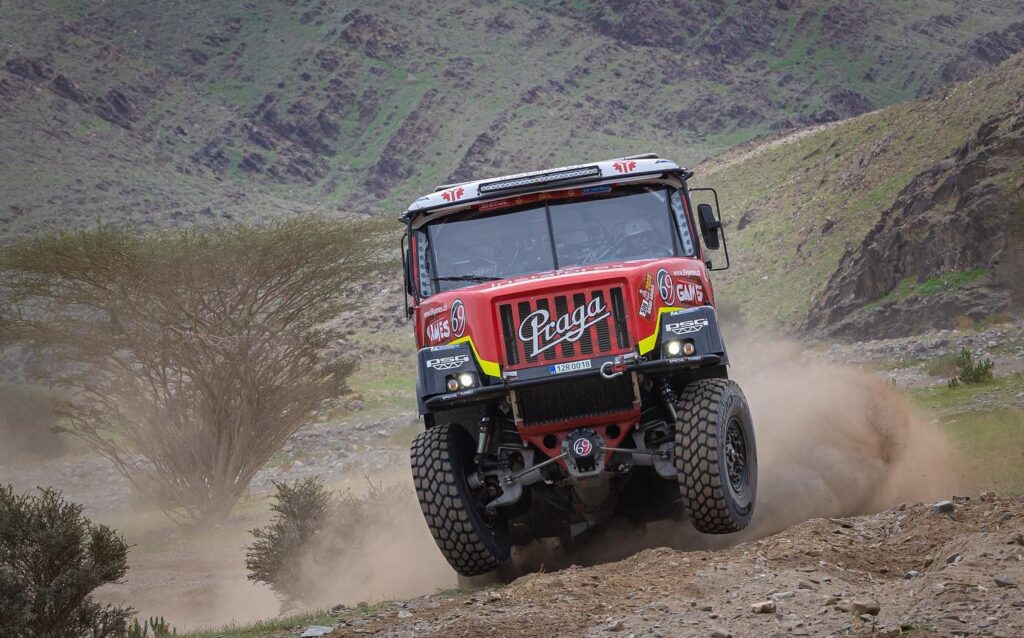 On Thursday 5 January, the Dakar Rally 2023 continued with a 649-kilometre-long fifth stage, which led crews to the north of Ha'il. Aleš Loprais, Jaroslav Valtr jr. and Petr Pokora enjoyed a close battle with young Mitchel van den Brink right on the track. However, they kept a close eye on Mitchel's father Martin.
In the morning, the experienced Dutch driver was leaving the bivouac as the second best driver overall, and following some late-night changes to the classification, his gap to Loprais had dropped from 27 to 15 minutes.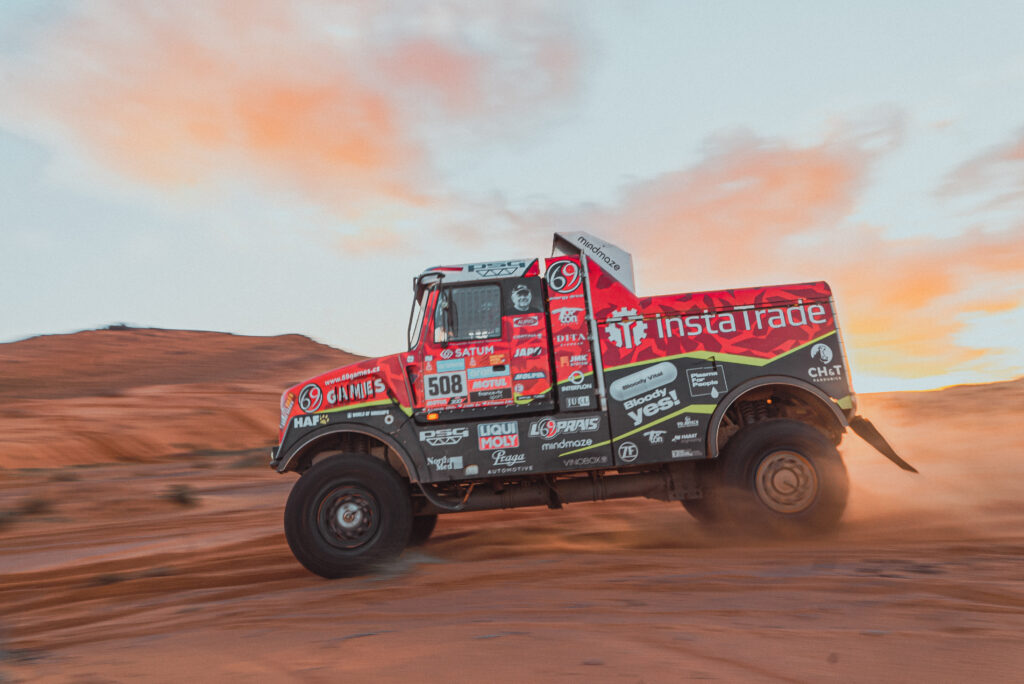 While the Instaforex Loprais Team crew held a steady pace on the special stage, Martin van den Brink was gradually improving and dramatized the duel between both leading trucks. In the second half of the stage, they were only seconds apart. However, after more than 5 hours of racing, and 374 kilometres, Loprais and the Czech truck Praga V4S DKR #508 managed to beat the Dutch team by only 16 seconds, strengthening their overall lead.
"Even though we didn't win by a large margin, we were glad to finish ahead of three trucks that had started ahead of us. Especially considering how broken and rough the route was. It was very close from the start; we were battling for every second. I thought that it was a bit like in a rally, on the limit. In the dunes, we were then opening up the track for others, and we pushed as much as we could. We're glad to have finished another stage. We keep going step by step, continuing our mission," summarized Aleš Loprais.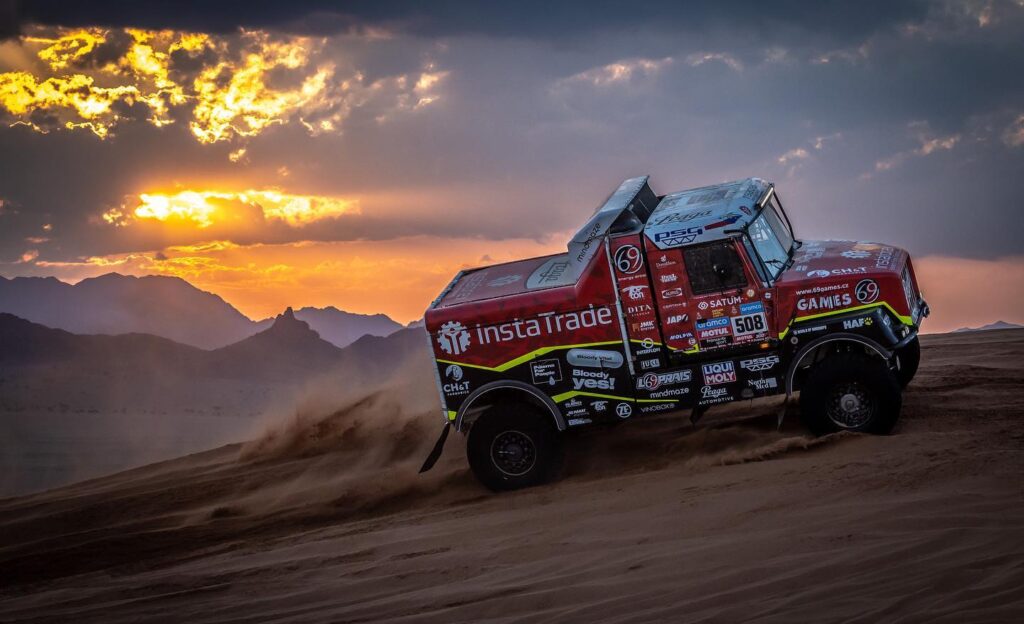 The sixth stage took place on Friday, 6 January, but did not end at Ad Dawadimi as planned. Following torrential rain that hit the area in the previous days, the place originally meant for a bivouac had been flooded. Instead, competitors headed to Riyadh two days earlier than planned. In the end, crews had to endure 919 kilometres during the day, out of which only 357 kilometres counted as a special stage, which was shortened from the original 466 kilometres.
Yet the route was not without difficulties, with large dunes followed by steep descents and more complicated navigation with waypoints. And it was a large dune which caused problems for the Praga team, leading them to lose valuable seconds and places.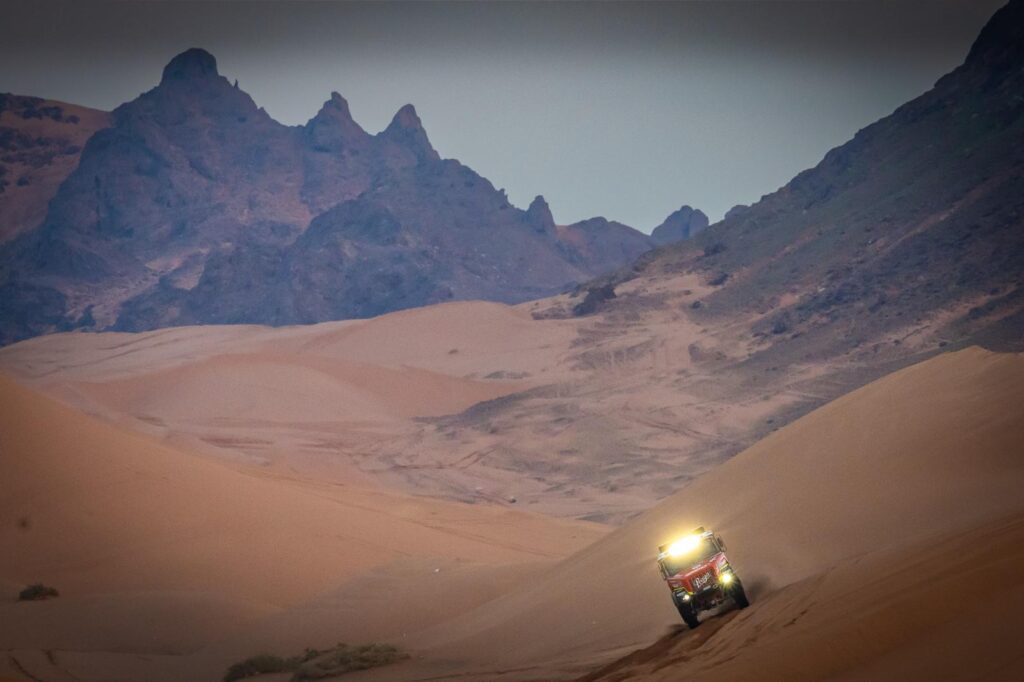 "We had started really well, but then I made an error when trying to climb a large dune. We didn't carry enough speed, and it didn't work out. But we were lucky to get out of there relatively fast," described Aleš Loprais.
The Instaforex Loprais Praga Team crew finished Friday's stage in sixth place, less than 27 minutes behind its winner Mitchel van den Brink. In the overall classification, the team moves to second place ahead of Mitchel's father Martin, even though by a close margin. After 2,300 kilometres of special stages, the best two trucks are separated by only 23 seconds. Janus van Kasteren in third position is 26 minutes behind the leader.
Watch daily vlogs and on-board footage by visiting Loprais Teams' YouTube channel here: https://www.youtube.com/@LopraisTatraTeam