Dakar 2021: Another puncture, but Aleš Loprais remains in fifth place
For the first time at Dakar Rally 2021, Aleš Loprais did not make it to the top 10. Yet, it was a relatively calm day for the Instaforex Loprais Praga Team. And while today's result of the Praga V4S DKR was not satisfying, it actually might be an advantage for tomorrow. Now, both team's trucks will head into tomorrow's very difficult stage shortly after each other.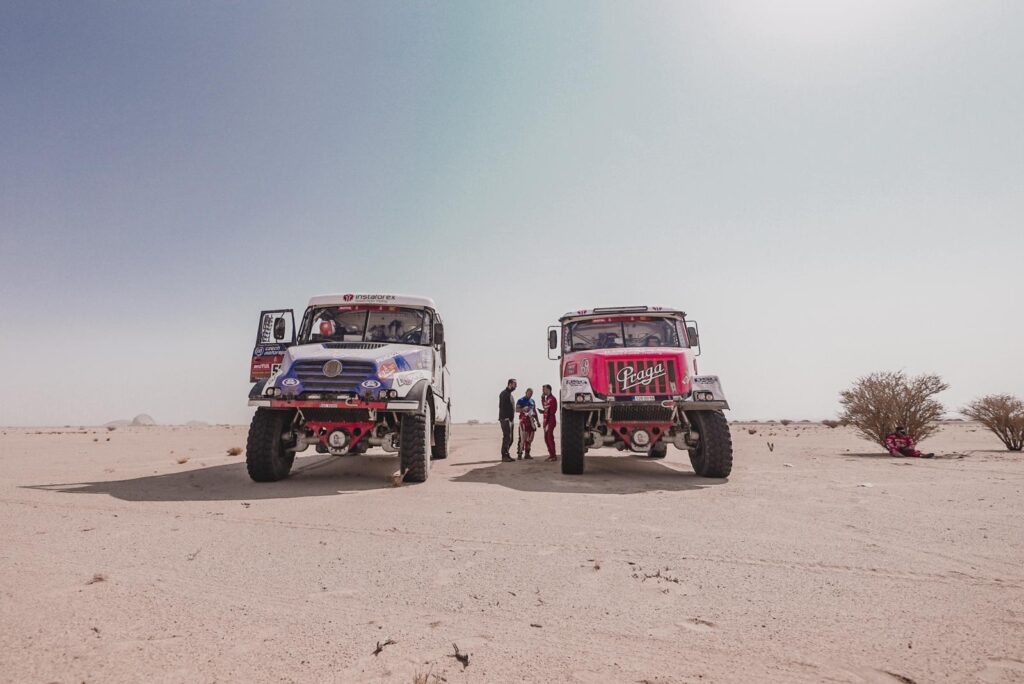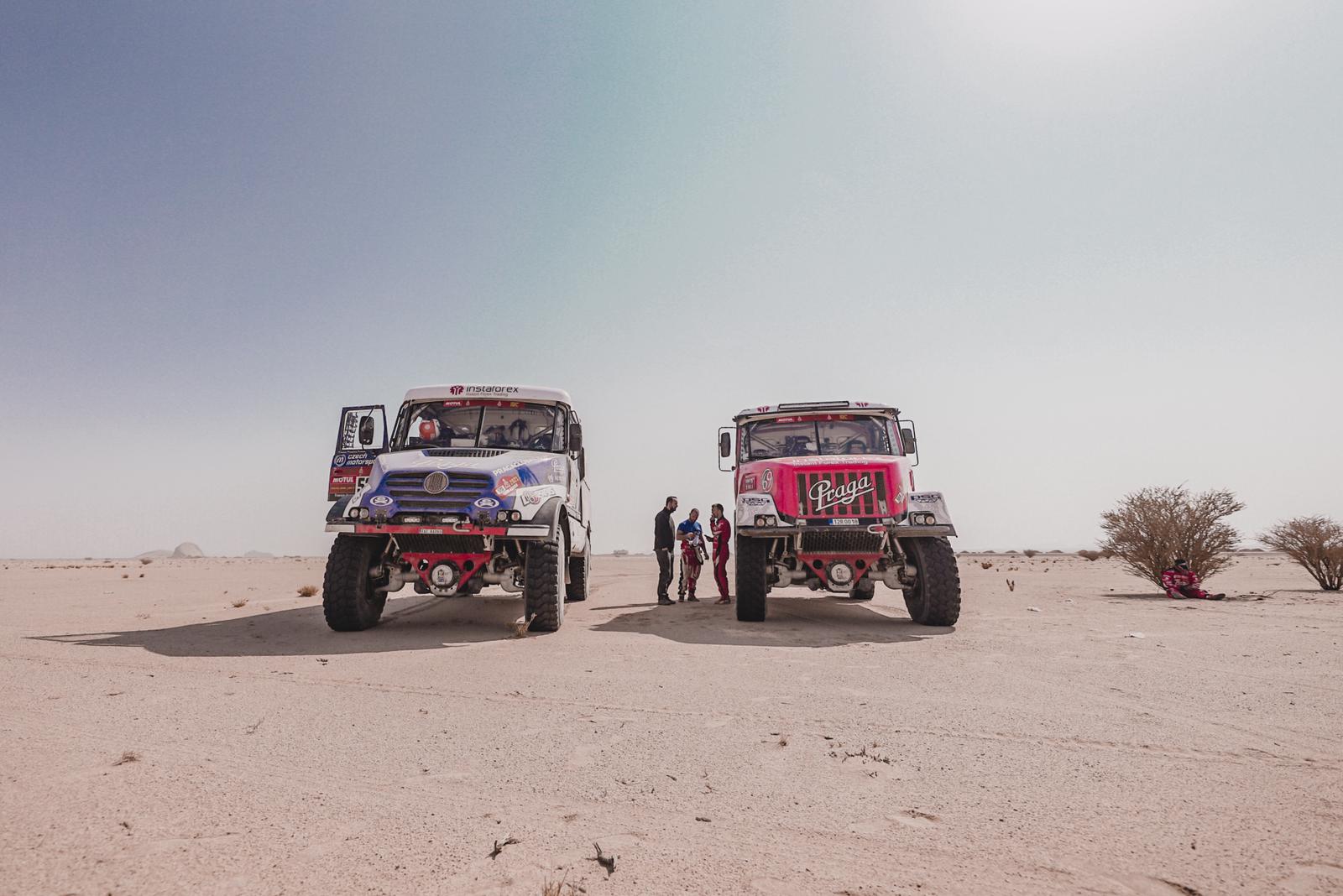 The fourth stage that led from Wadi Ad-Dawasir to Riyadh served mostly as a crossing for the crews to move from the western to the eastern part of the country. With 813 kilometres it was the longest stage of the whole Dakar Rally 2021 competition. And that also played its role in a profile of the timed section, that was pretty short and very fast with only 337 kilometres.
It comes as no surprise, that the gaps were almost non-existent between the fastest trucks. Even just a tyre change meant a potential loss of several positions. And that is what happened to Aleš Loprais, Khalid Alkendi and Petr Pokora.
"We had a good run from the start. But then we caught up with one of the MAZ trucks, ran into dust and we got a puncture. It was definitely my mistake and I'm disappointed that I can't learn from it, because again, we have no idea where exactly it happened. It was a slow puncture, so we kept inflating it for a while, but then we decided to change it. The tyre had very little pressure already, and I was worried about possible damage to the truck," explains Aleš Loprais.
Aleš Loprais praises organisers: "This is the real Dakar, I can feel every bone in my body!"
The red and white Praga V4S DKR finished in eleventh place, fifteen minutes behind today's winner and the overall leader Dmitry Sotnikov with Kamaz. In the overall standings, the Instaforex Loprais Praga Team remains in fifth place, 51 minutes and 40 seconds behind the leader.
"The change took about eleven minutes, as always. But then we lost some time before we found the pace again. We then tried hard in the second half of the stage, but it didn't go as well as expected, because the stage was short and very fast."
"I'm not so happy about the result, but I really enjoyed it. The truck works perfectly, and I'm really delighted about that. We've managed to keep the fifth place. Even though I wanted more today, there's still time. We're still in the first half of the rally. We'll have to push, and I'm looking forward to that because the truck works well, and we'll have more dunes and sandy sections. I believe that's where we could make some progress and get in front," says Loprais.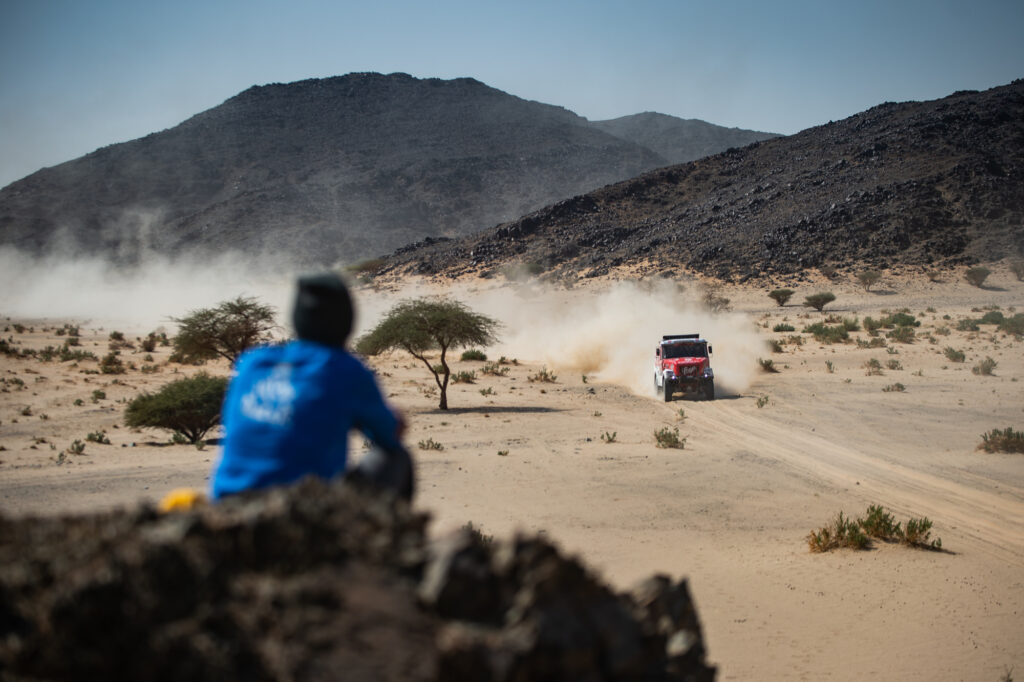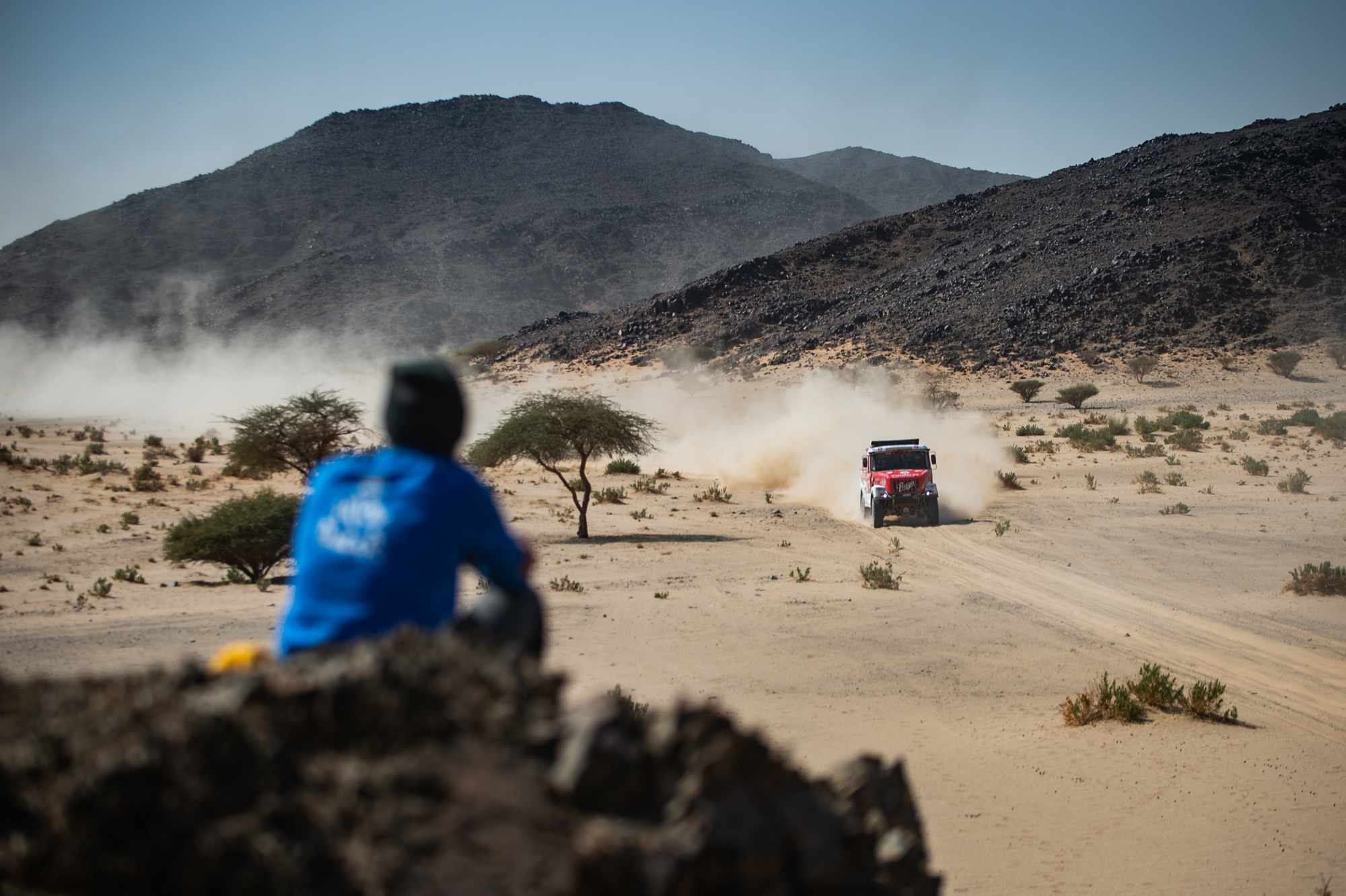 Meanwhile, Jan Tománek, Tomáš Kašpárek and Jiří Stross with Tatra Jamal – The Queen 69 have improved to fifteenth place in the overall standings.
"Today, it was easier and faster, with just a small area of dunes. Just like twelve to fifteen kilometres, nothing difficult. While the dunes were large, slides and slopes were quite easy. Only the final eighty kilometres, when the route led between rocks, it was a bit harder to navigate through," describes Jan Tománek.
"I think that we've handled it well, even though we struggled with a power loss again. The local fuel has poor quality and it's not lubricating our fuel injection system well. That's why we're trying to find some additive to improve the fuel. Tomorrow's stage will be very difficult, we're going to need all power that we can get. We face about 110 kilometres of dunes, so hopefully, we'll be in full strength."
Thursday's stage to Al Qaisumah is 795 kilometres long, which is just a little bit less than today. On the way, the crews are going to face one of the most challenging stages of the Dakar Rally 2021, where they will need to use all experience they have. In total, 456 kilometres will be timed, and the organisers are promising navigational challenges and a tough dunes sector near the middle of the stage.
Also, most of the trucks will be finishing under cover of darkness. And not just when arriving at the bivouac, but to the finish line already. While in previous days, the trucks started mixed with cars and side-by-side vehicles, this time, they will start after them. According to the expectations, the first trucks are expected to cross the finish line shortly after 5pm of local time, with the sunset arriving usually just before 5:30pm.