Praga R1 customers dominate as debutant Guest Drivers impress at soaking wet Snett
Round 2 of the 2021 Praga Cup in the Britcar Endurance Championship at Snetterton was a tense, wet and dramatic affair that welcomed to the grid Angus Fender, Miles Lacey, Jay Morton and James Walker (Mr JWW) for their debut Praga races. 
All four drivers experienced the ups and downs of British wet-weather motor racing, but ended the day celebrating tense and exciting races that saw them narrowly miss out on podium positions.
After seven Praga R1s took to the grid in Round 1 at Silverstone two weeks ago, nine put on their wets at Snetterton, with back-to-back wins for CW Performance, and five of the six podium places over the two races being taken by private R1 owners and teams. The sole Guest Driver car to take home silverware was 'Ruby,' the R1 piloted by Jack Fabby and Charlie Martin in race one; their third trophy haul in three races.

Round 2 Snetterton, Race 1
: Morton battles through dramatic Praga debut with racer Angus Fender
Following torrential morning rain that led to a succession of track inspections and weather reviews throughout the day, the first race was led off after lunch under the safety car due to areas of standing water all around the Snetterton circuit. As the field tip-toed through the twists and turns, one Praga stood out as young racer Angus Fender, representing Cambridge & Classic Bank, took the battle to the derestricted GT3s that were able to power through the puddles. 
Following a stunning opening stint by R1 debutant Fender, that included a nail-biting move to take the overall lead, he handed over to debutant Morton ahead of the trailing pack of Pragas, and the ex-SAS man made a great attempt at holding off the competition for lap after lap. With less than eight minutes of the one-hour race remaining, he was eventually outmanoeuvred by three experienced racing drivers in the CW Performance and Tim Gray Motorsport cars as well as Guest Driver Jack Fabby.
Despite spinning in the soaking wet conditions and an unenforced pit-stop to clean his muddied windscreen, Morton was able to celebrate a brave 4th place with Fender. Fabby and partner Martin took 2nd, with the Bridle twins, Chris and Ed, in their 2016 Praga R1 finishing 3rd, behind Praga class race winners Richard Morris and Chippy Wesemael. 
Mr JWW to drive Frank Stephenson-liveried Praga R1 alongside SCD's Miles Lacey
Round 2 Snetterton, Race 2
: Customer relations rule race 2 as R1 race teams take top spots
Race 2 was run under drying but still damp conditions and was punctuated by a pit lane incident that damaged the number 91 'Powerhouse Performance' Praga R1 of Fabby and Martin beyond repair, as the whole field pitted under safety car conditions caused by a separate on-track incident that saw R1 of Kapadia/Wells taken out by a rival.
With racing back under way, all teams risked slicks and a second debutant team was set to earn a creditable result in the Praga class.
'Frank', the R1 featuring the livery designed by car designer Frank Stephenson, was brought home in an impressive 4th place by James Walker, after team-mate Miles Lacey had to start from the back of the grid following a rain-induced incident in qualifying. Walker took the chequered flag after a nail-biting race to the end with Chris Bridle managing to overtake Rod Goodman in the final few laps to claim 2nd place, with solo-driver Goodman holding off Walker by 0.35 seconds for 3rd, and with all three Pragas separated by less than 1.5 seconds. Jimmy Broadbent and Jay Morton also showed good pace on the final outing of the day as track conditions improved.
With such a close finish for the final two steps of the podium, CW Performance took a stunning second win of the day in their brand new R1 on it's first race weekend.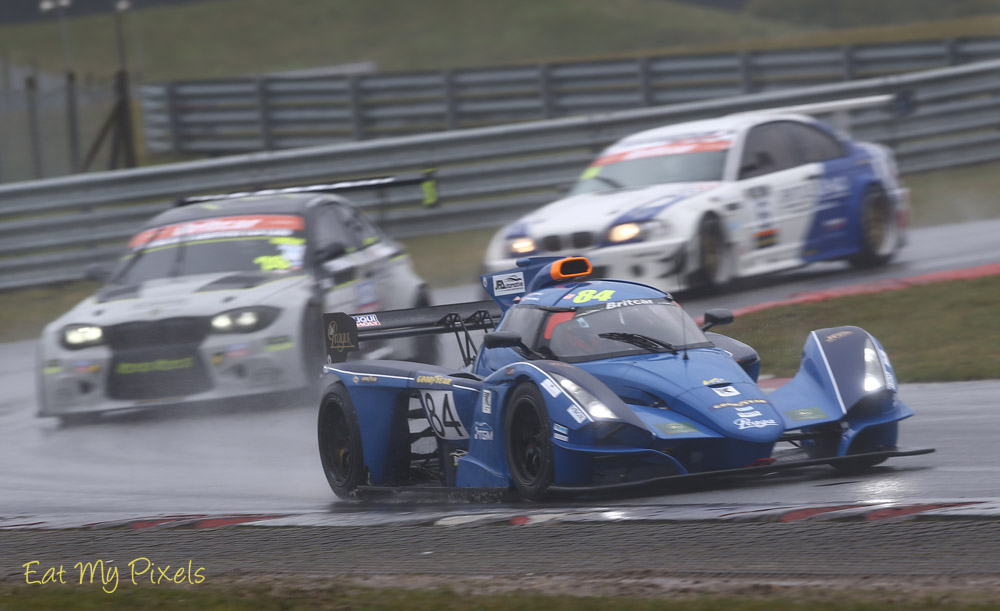 Credit also went to Jimmy Broadbent and Jem Hepworth who brought 'Goldie' back 5th in class, given that it was just Broadbent's second race weekend in the Praga, and run under some of the worst conditions most drivers had ever raced under. An elated Jay Morton followed Broadbent home for his second finish of the day on his Praga debut.
Mark Harrison, Managing Director, Praga Cars UK, said: "To say race day was action-packed is an understatement. Given the conditions, qualifying and race 1 were a lottery, but credit to the day's debutants and novices and the VR Motorsport team of mechanics who battled through the wind and rain to keep cars on track."
"Highlights were Jay Morton's mud bath as he battled to fourth, seeing Miles and James get out for race two and take 'Frank' from last and into the top ten overall for fourth in class, and the battle between the Bridles, Rod Goodman and James Walker at full chat on a damp track."
"Jimmy Broadbent and Jem also deserve credit for their team-work and determination – racing in the rain was certainly a new experience for Jimmy. And congratulations to CW Performance, Tim Gray Motorsport and Motus One Racing for earning ten of the twelve trophies of the day running their old and new Pragas."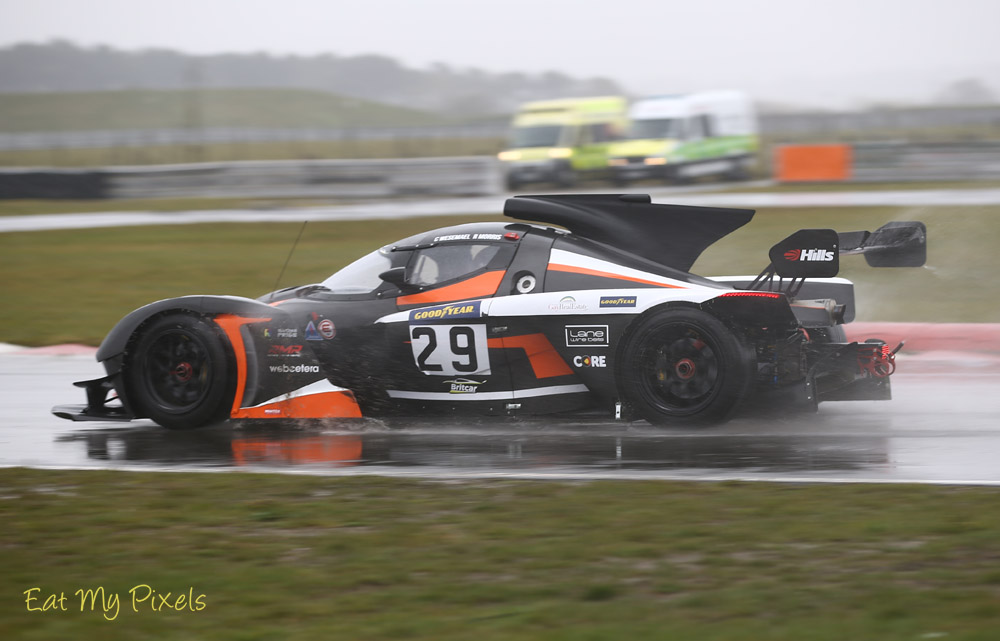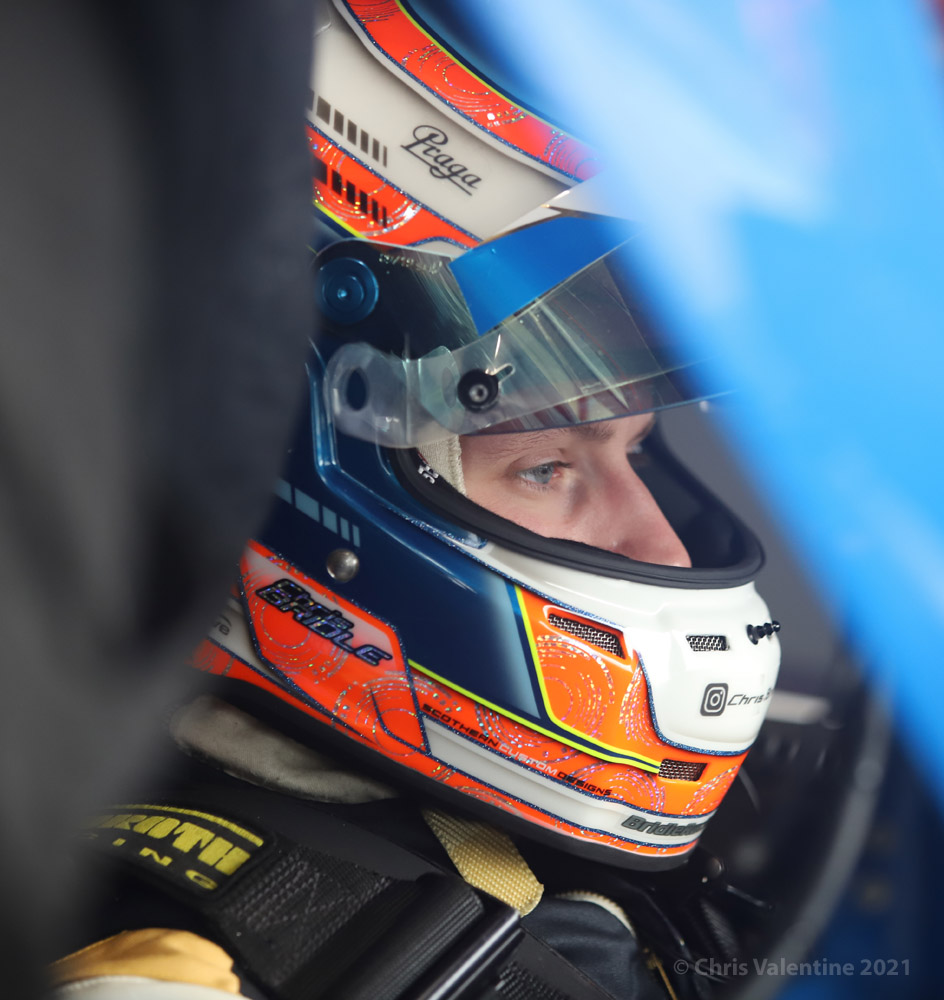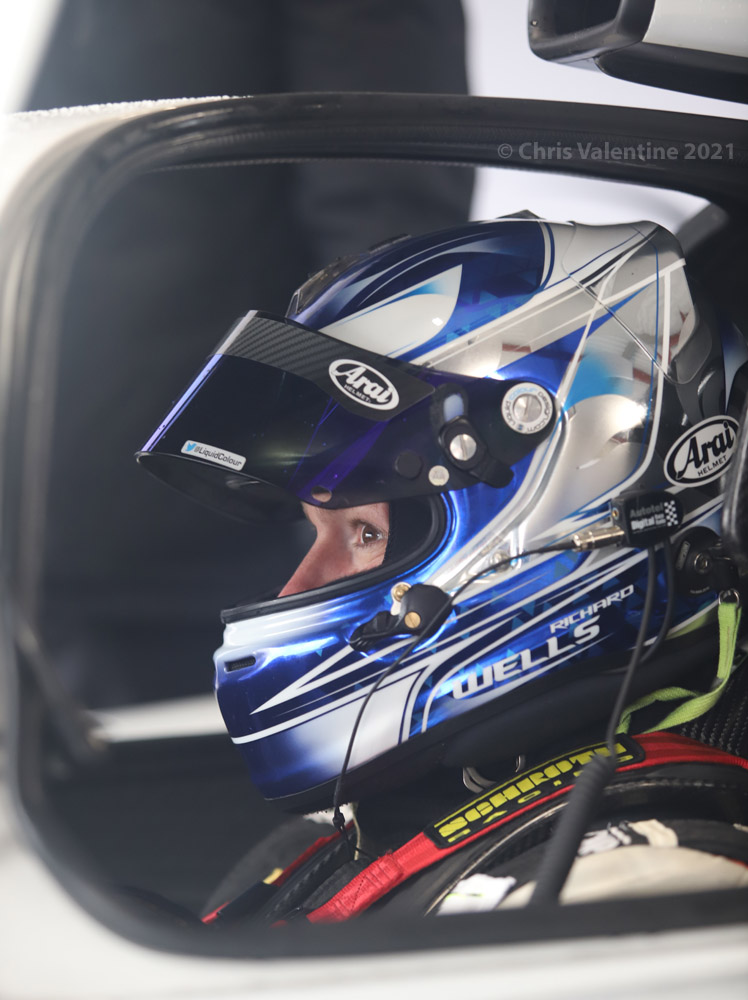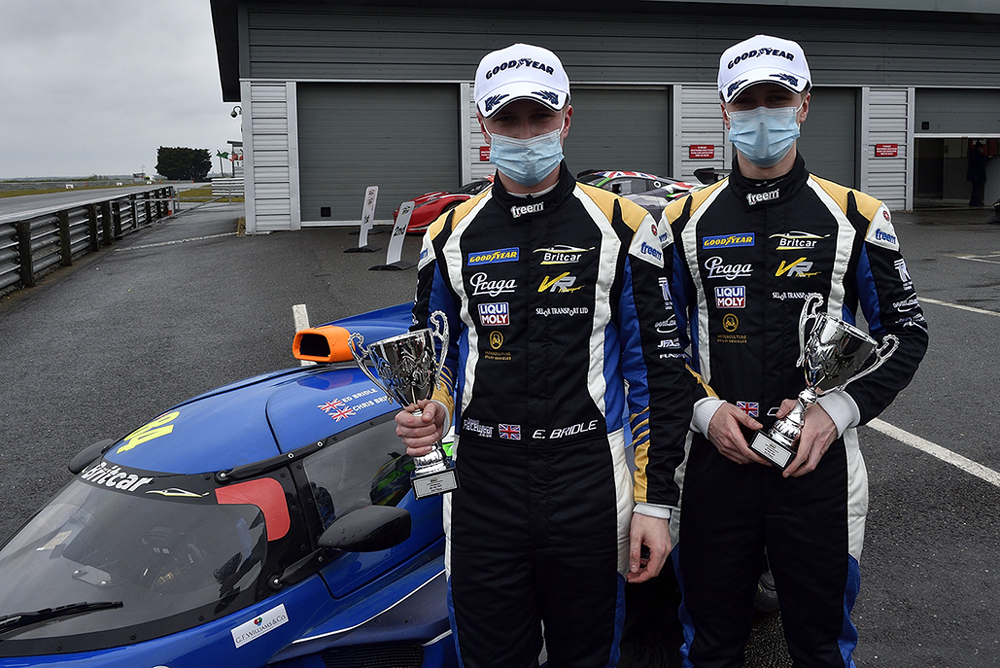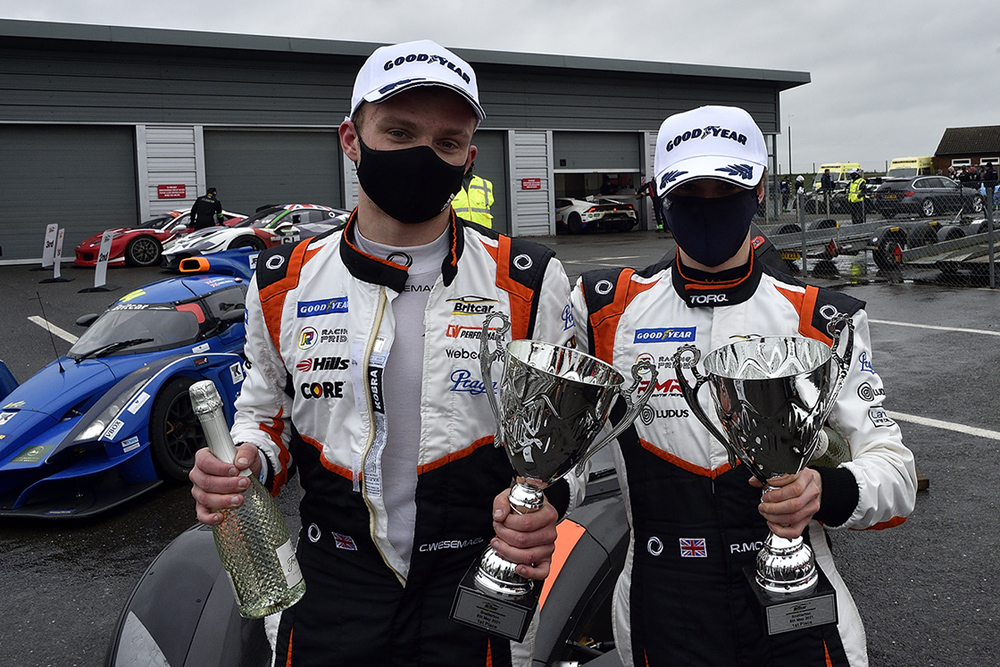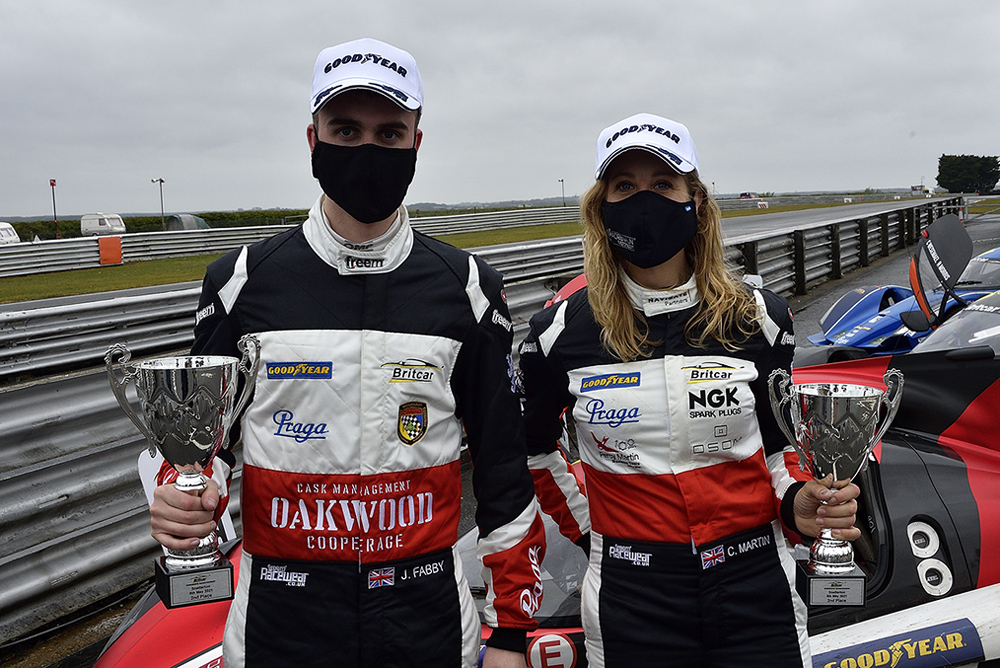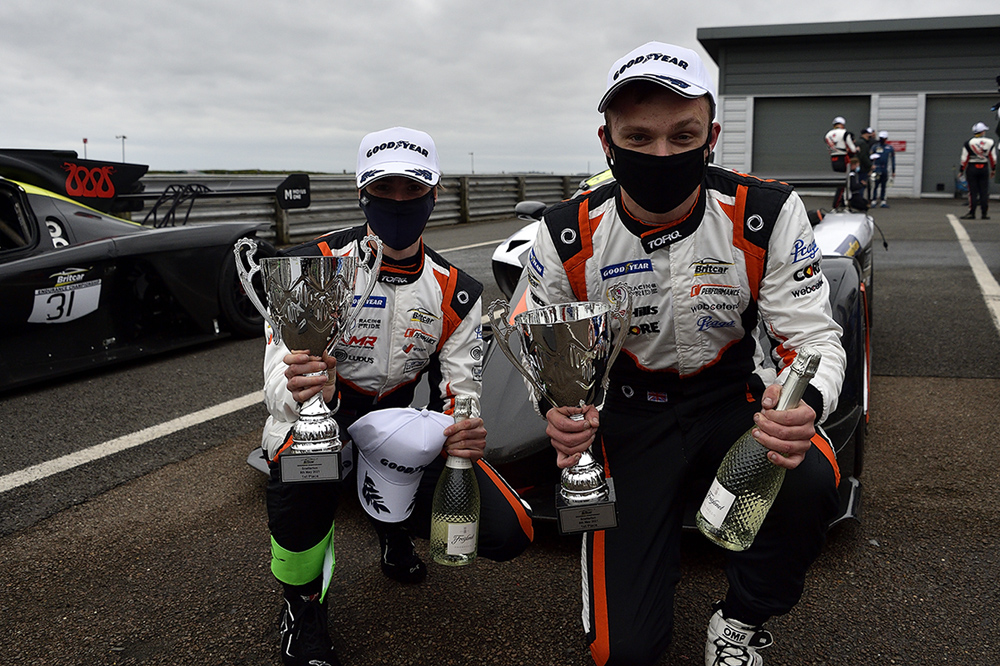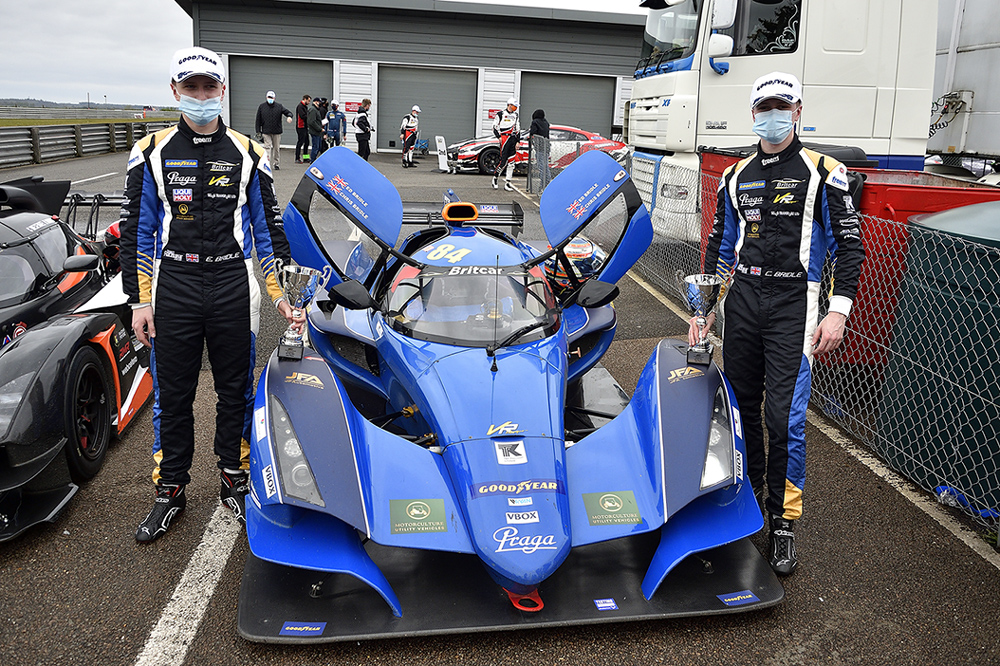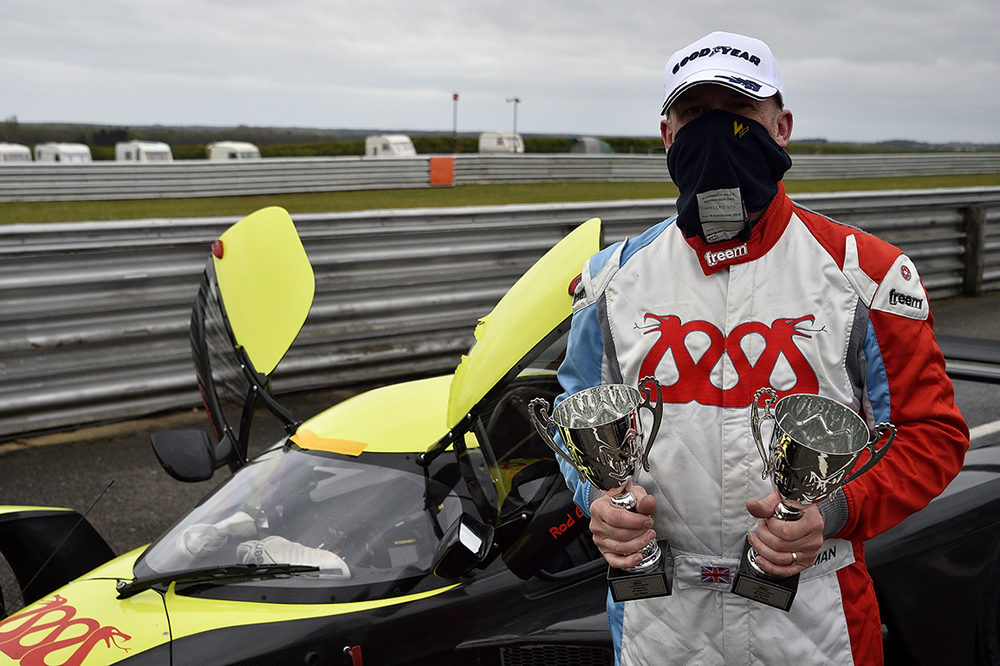 Photo credit: Chris Valentine/Britcar & Steve Jackman